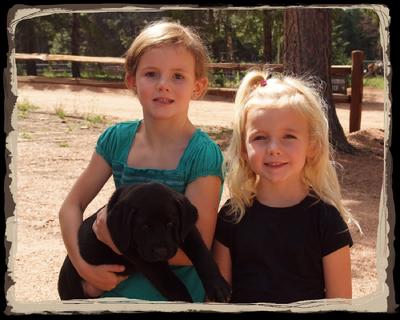 Stanley with Katie and Emma
Hi Scott and Kandi!

Our first week with Stanley has been amazing!
He is such a great little puppy. He sleeps all night in his crate with no accidents and is so smart:)
Here are some of our favorite things about him so far:
-he snores when he sleeps
-he often gets the hiccups when he wakes up from nap
-he likes to watch TV
-he is a cuddlebug
-he is already playing a little fetch
-he and Sydney adore each other

His favorite place to sleep is curled up under chairs and he loves to go where we go:)

Enjoy the photos and thanks for such a great puppy!!!

The Peters Family


Hi Scott and Kandi-

We continue to enjoy having Stanley as part of our family! He is so much fun:)
He went to the vet yesterday and was deemed a perfect little puppy! We will return next week to get his 10 week vaccinations.
He loves to play with Sydney and is following her with a love for playing fetch!
Here are some photos.
Take care,
The Peters Family

| | |
| --- | --- |
| 9 weeks old | 9 weeks old |
Hi Scott and Kandi!

Hope you all had a great vacation!
Stanley is really growing and doing very well. He still snores (which I love) and has developed a love for sleeping on his back:) He is so cute and so much fun.
He turned 10 weeks old today and we will take him for his shots in the morning.
We love him sooo much and thank you for him!
We will probably send photos every month from now on:)
Sarah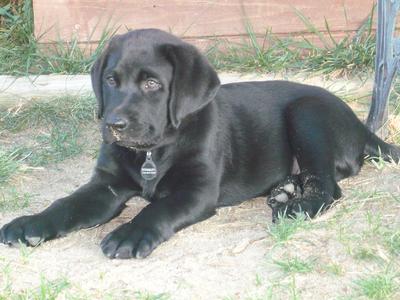 10 weeks old
Hi Scott and Kandi!

Meant to write last month but summertime is always so busy:) Just wanted to let you know that at the one year mark Stanley continues to thrive and is such a wonderful dog. He is so loving and just wants to please us. His intelligence and temperament continue to impress us and we again thank you for such a wonderful family pet!
Here is a photo!

The Peters Family

Hi Guys!
Champ is doing awesome. We are very pleased to have him as a member of the family. I donít know if there is a dog alive that gets more attention than Champ and he loves every bit of it.
He has done very well adapting to his crate at night and the potty training is going well also. Heís a very happy dog.
Of course, we have been taking many photos and I will be sure to send you a couple in a week or two so you can see how much he has grown.
Thanks again for breeding such great dogs!
Bruce Dakin
Hey Scott and Kandi,
Eddie is doing great and a great addition to the family!!!!
Shay
COLORADO ASPEN LABS
Scott and Kandi Washington
Lampe, MO
coloradoaspenlabs@gmail.com
(417) 920-0881 (719) 649-2813